BC Documents Committee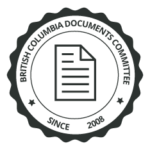 The British Columbia Construction Documents Committee (BCDC) is a provincial joint committee responsible for the development, production and review of standard British Columbia construction contracts, forms and guides – including BCDC2 and BCDC2e documents. Some documents will require that you register for credentials before you download. Registration is a quick and easy process which allows us to better serve you.
COMMITTEE MEMBERS:
CRIS MUNRO, CPP, CPM; Purchasing Manager
BETTY WIEBE; Project Administrator, Capital Projects, Interior Health Authority
GREGG BROWN, MAIBC; KMBR Architects Planners Inc.
DAVID MCNAIR; Development Manager, Workplace Development Services, Shared Services BC
TERRY BROWN; President STBR Consulting Ltd. (Representing BC Construction Association)
WARREN PERKS; VP Industry Standard Practises, BC Construction Association (Retired)

BC Construction Management Documents Committee
These documents were developed with input by industry stakeholder groups in consultation with design consultants, public owners, construction supply chain/procurement management consultants, and construction management companies.
COMMITTEE MEMBERS:
TERRY BROWN; President STBR Consulting Ltd.
KATY FAIRLEY; Principal, Fairley Strategies
DAVE NEUFELD, P.Eng; Sr. Project Manager, Facilities Design & Construction, Island Health
BRONWYN PHILLIPS; Senior Procurement Contract Specialist, Workplace Development Services Branch, Real Property Division, Ministry of Citizen's Services.
WARREN PERKS; VP Industry Standard Practises, BC Construction Association (Retired)